3월 넷째 주 Council Events
Ryde
Seniors Festival: Senior Low Risk Driving Workshop
Come along to a FREE Low Risk Driving presentation by a Qualified Driving Instructor and Senior Assessor.
Learn how to be a low risk driver
Update your knowledge of road rules
Understand new vehicle technology
Prepare for the Aged Driving Test
For more information call 9952 8222.
Date & Time
Wednesday 06 February 2019 / 10.00am – 1.00pm
Thursday 04 April 2019 / 9.00am – 12.00pm
 Contact
City of Ryde
Phone: 9952 8222
 Cost
Free. Bookings essential – call 9952 8222.
 Location
City of Ryde, Level 1A, 1 Pope Street, Ryde 2112 View Map
---
Blacktown
Lalor Park Community Forum
Tuesday, 02 April 2019 | 07:00 PM to 09:00 PM

Join us at the first community forum for 2019.
This is an opportunity for residents to learn about what's happening in their neighbourhood.
We will discuss upgrades to local parks and reserves, and community safety programs.
This is a chance to raise your concerns to Council during the open mic session.
When
Tuesday, 02 April 2019 | 07:00 PM – 09:00 PM
Location
Lalor Park Community Centre, 1 Freeman St, Lalor Park, Lalor Park 2147  View Map
---
Chastwood
Family History Group
Start Date & Time: Wednesday, 3 April 2019 10:00 am
End Date & Time: Wednesday, 3 April 2019 11:30 am
Address: Chatswood Library on The Concourse, Lower Ground, 409 Victoria Ave, Chatswood
Cost: Free
Description:
Are you new to tracing your family history and would like to be guided through the resources and services that are available? Or are you experienced in Family History and happy to share your passion and knowledge with others?
Join our monthly Family History Group at Chatswood Library to learn and share the experiences of delving into family history to uncover treasures. Come and take part in this interactive group where you can learn, chat and meet like-minded people. Each month the Library's Local Studies team will provide information that can help you along your family history journey.
Meetings are held on the first Wednesday of each month.
Free – no bookings required. 
Contact: Willoughby City Library on 9777 7900 or email library@willoughby.nsw.gov.au
---
PARAMATA
GREEK FLAG RAISING CEREMONY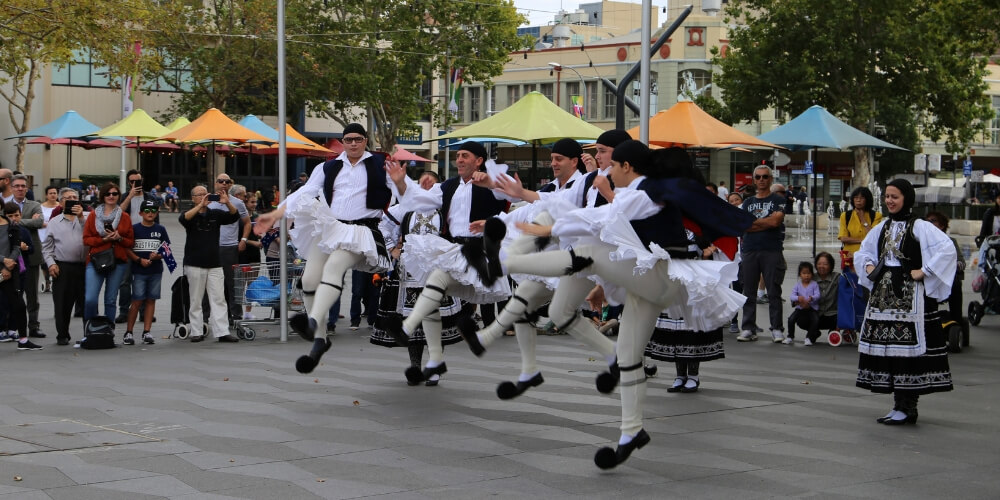 City of Parramatta Lord Mayor Cr Andrew Wilson will be hosting Greek Flag Raising Ceremony to celebrate National Day of Independence for Greece.
Date: Saturday 30 March 2019
Time: 9:30am – 11am
Location: Parramatta Town Hall, Centenary Square, Parramatta
All are welcome to attend with family and friends. This is a public event and includes raising of the Australian and Greek National Flags, special cultural performances by traditional Greek dancers and choir.
---
CITY
Miss Jacqui's Ballerinas: Glebe
Join us as your child takes their first dancing steps with us. Watch as they use their imagination to learn and have fun in a creative and supportive environment.
Our classes are a beautiful introduction to the world of dance, especially created for young curious minds with an experienced and passionate teacher to guide the way.
We can't wait to see you in class!
When
Wednesdays and Thursdays, 9.30am to 11.30am
Fridays, 9.30am to 12.15pm
Wednesday 30 January to Friday 6 December 2019
Cost
Dance with me class (1.5 to 3 years): $18
Little Ballet class (3 to 4 years): $22
Little Jazz class (3 to 5 years): $22
Little Ballet class (4 to 5 years): $22
More Info
---
KU-RING-GIA
Lindfield Village Hub – Drop-in info sessions
Event details
Council Event
For

 :

Everyone

When

:

Mon

11 Mar 2019 at  4:00 PM  -6:00 PM

Mon

18 Mar 2019 at  4:00 PM  -6:00 PM

Mon

25 Mar 2019 at  4:00 PM  -6:00 PM

Mon

01 Apr 2019 at  4:00 PM  -6:00 PM

Mon

08 Apr 2019 at  4:00 PM  -6:00 PM

Mon

15 Apr 2019 at  4:00 PM  -6:00 PM

Mon

22 Apr 2019 at  4:00 PM  -6:00 PM

Mon

29 Apr 2019 at  4:00 PM  -6:00 PM

Mon

06 May 2019 at  4:00 PM  -6:00 PM

Where

:
Gordon Library
799  Pacific Highway, Gordon

Contact details

:

Cost

:
free
About
Council is hosting community drop in sessions every Monday to discuss Lindfield Village Hub and hear your feedback.
There's also an information display set up at Lindfield Library.