12월 첫째 주 Council Events
Ryde
Mayor's Morning Tea
FREE COFFEE  –  FREE FACE PAINTING  –  FREE JUMPING CASTLE
Come along to Anzac Park and meet The Mayor, Councillor Jerome Laxale, for a free Morning Tea on 1 December 2018.
Talk to the Mayor about Local Issues and enjoy the morning with all of the family.
There will be fun activities for kids including face painting and a jumping castle.
Date & Time
Saturday 01 December 2018 / 10.30am – 12.00pm
 Location
Anzac Park, Wattle Street, West Ryde 2114 View Map
---
Blacktown
Blacktown Fresh Food Fair
Join us for the monthly Blacktown Fresh Food Fair!
The Blacktown Fresh Food Fair will be held on the first Sunday of each month. The Village Green will be transformed into a farmer's wonderland with the very best fresh food that Blacktown and Western Sydney has to offer.
There will be an abundance of fresh produce, local eggs, homemade items, local honey, plants, flowers, preserves, herbs and spices, jams and chutneys and many more amazing stalls.
Bring along the family to enjoy a bacon and egg roll, supporting our local Lions and Rotary Clubs. With live performances from local talent, coffee and free face painting-  there is something for everyone!
Kids can enjoy a hands-on farm experience in our free petting zoo, with an array of farm animals including rabbits, guinea pigs, lambs, chooks, and even a calf and mini pony!
We are committed to ensuring our events are managed with minimal impact on the environment in line with our sustainable events policy. Please remember to bring your reusable shopping bags for any purchases made at the event.
Contact
Community Events Team
Sunday, 02 December 2018 | 09:00 AM to 12:00 PM
---
Chastwood
Fair Trade Christmas Markets
Start Date & Time: Saturday, 1 December 2018 10:00 am
End Date & Time: Saturday, 1 December 2018 4:00 pm
Address: Chatswood Mall, Chatswood
Cost: Free
Description:
Our popular Fair Trade Christmas Markets are back! This is the place to find your ethically sourced handcrafted gifts with an inspirational story.
Give twice this Christmas by kicking off a chain reaction of goodwill. Choose to spend your money where it can make a real difference by supporting opportunities for economically disadvantaged artisans, farmers and producers.
Fair Trade goodies you can find at the Markets include fashion, accessories, toys, homewares, jewellery, beauty products and more!
Contact: Environmental Educators on 02 9777 1000 or email Env.educators@willoughby.nsw.gov.au
E-Newsletter: Subscribe to our e.newsletter to find out about all of Willoughby's events and activities.
---
PARAMATA
LORD MAYOR'S SENIORS CHRISTMAS PARTY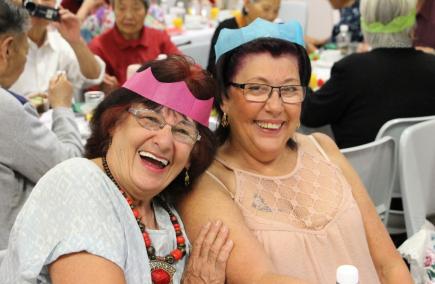 SUNDAY 11 NOVEMBER 2018
Lord Mayor Councillor Andrew Wilson will be hosting a free Christmas luncheon for seniors. This celebration is an opportunity to recognise our valued seniors and their contribution to the Parramatta local government area.
This event provides a chance for attendees to connect with fellow seniors while receiving information from a number of organisations providing services to the local senior's community and enjoying a traditional Christmas lunch.
EVENT DETAILS
Venue:  Waterview in Bicentennial Park, Bicentennial Drive, Sydney Olympic Park
Date: Tuesday 4 December 2018
Time: 10am – 2pm
Tickets: Tickets are essential, however bookings have been fully exhausted and are now closed. If you have any questions about your booking, please contact Riverside Box Office on 02 8839 3399
ELIGIBILITY
To be eligible to receive a ticket for this event you must:
•    Be a City of Parramatta Council resident and/or ratepayer
•    Hold a valid Seniors Card or be over 60 years of age
Guests will be required to provide identification to validate their eligibility to obtain a ticket and on arrival at the event.
PARKING
Adequate free on-site parking is available for guests who choose to drive to the venue.
FREE SHUTTLE BUS – BOOKING REQUIRED
Free shuttle buses will run from Council Community Centres from 9am on the event day to transport guests to and from the venue.
Bookings for shuttle buses are essential on a first come, first served basis, and can be made when reserving your ticket.
Where
Waterview, Bicentennial Drive, Sydney Olympic Park
Tickets
Tickets are essential, however bookings have been fully exhausted and are now closed. If you have any questions about your booking, please contact Riverside Box Office on 02 8839 3399
---
CITY
Huge garage sale
Clothing and accessories for sale with all proceeds going to charity
Dress For Success Sydney is holding a huge garage sale. 1st Saturday each month. Come and find some fantastic bargains!
Quality women's casual and corporate clothing, shoes, handbags and accessories.
Fill a medium size garbage bag for $5! Fill a large size garbage bag for $10! Amazing!
Designer clothing brands for $5 a piece. If you think it's worth more, please be generous!!!
Bric-a-brac on sale for low prices.
Savvy shoppers grab their coffees and line up from 9am the bargains are so great!
All proceeds go to Dress for Success Sydney. Dress for Success Sydney is a not for profit organisation empowering women to achieve economic independence by providing professional attire and career support.
All money raised ensures we can continue to offer our wide range of programs.
Where
531 Illawarra Rd, Marrickville NSW 2204, Australia
When
1st Saturday of each month, 10am to 11.30am
Saturday 1 September to Saturday 1 December 2018
---
KU-RING-GIA
Advent Games Essen Review weekend
For

 :

Adults

When

:

Sat

01 Dec 2018 at  10:30 AM  -11:30 PM

Sun

02 Dec 2018 at  10:30 AM  -8:30 PM

Where

:
The Roseville Memorial Club
64  Pacific Highway, Roseville

Contact details

:

Cost

:
$19-31
About
Come join us for a two-day board gaming event to meet fellow gamers and play board games.
Meet new friends, play test a range of new games from this year's Essen Spiel and play old and new favourites into the evening.
More information and tickets available through Eventbrite.